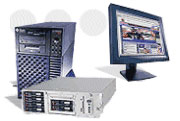 Welcome to Hughes Solutions, the answer to all your Web Hosting, Registration, Design, and Consulting needs.
We are dedicated to providing you with the best possible service and support. We have been working with Computers, and related technologies since the late 80's and have been involved with the Internet since 1994.
We will continually strive to learn new and useful technology to enhance the way people use the Internet and Computers.
We offer hosting packages starting at $3.00 per month, and Domain name registration for $15.00 per year.
Let our web developers design a professional web presence for you. We use cutting edge technologies to get your business noticed. Click Here for some examples of our work.
We provide Administrative Consulting for your small or medium sized business, including but not limited to; Software Installation and Configuration, Hardware Installation and Configuration, Project Planning and Management, Network Installation and Troubleshooting, Computer and Server Maintenance, Process Documentation, and more.
Contact Cliff Hughes for a quote.
Cliff Hughes
cliff@cdhughes.net
469-688-9506